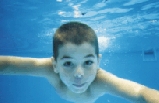 P
eople ask us all the time,
"You guys ever get any
bright ideas?"
"Well, funny you should ask"
we always say. Because,
that's the kind of business
we're in. We're In The
Idea Business.
Sometimes ya gotta dig
deep to find 'em...
... other times, they're right
there on the surface.
Regardless of where we find
them. We always seem to find
the best and brightest idea for
each and every one of
our clients.
We're sure we have the right
idea for you.